Vice Chairman Dr. Li Hu attends the ADR & Investment Summit: Asia and Other Emerging Markets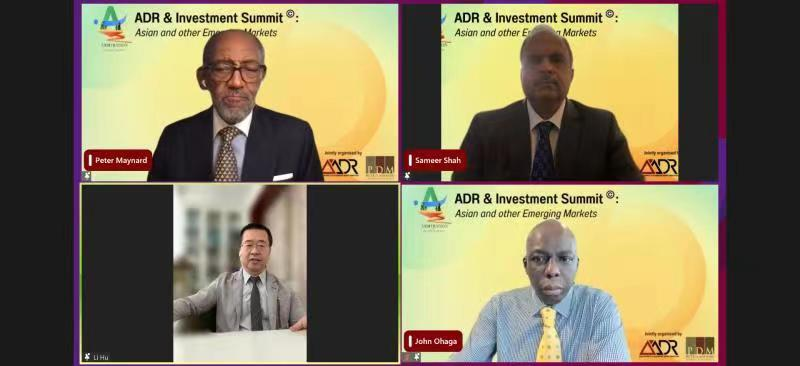 28 May 2022 - AIADR and Peter D. Maynard Counsel & Attorneys jointly organized a webinar on the topic "ADR & Investment Summit: Asia and Other Emerging Markets" . Dr Li Hu, CMAC Vice Chairman, attended the event as panelist on "Session 4: Emergence of Regional Arbitration Hubs". This session was moderated by Dr. Peter Maynard, managing partner of Peter D. Maynard Counsel & Attorneys. Other panelists included Mr. Sameer Shah, Senior Partner of Trust Legal and founder of S. U. Shah & Associates, and John Ohaga, managing partner at TripleOKLaw LLP.
Dr. Li Hu said, "Asia-Pacific region has become a big market for international arbitration, particularly in commercial and maritime fields. Behind the success of a major international arbitration hub, there are several pertinent factors to be considered, including but not limited to an updating legal system, an arbitration-friendly judicial mechanism, favorable policies upon the support of government, leading arbitration institutions, as well as a panel of revered experts and practitioners. All these put together gives rise to what is called an arbitration hub--a place which attracts national and international disputes purely on its reputation".
CMAC is a well-known specialist arbitration institution dedicated to providing world-class quality and efficient maritime and commercial arbitrations responsive to the needs of global and regional users. CMAC intends to strengthen relationship and deepen collaboration with dispute resolution institutes worldwide, promoting the use of arbitration and other forms of alternative dispute resolution, to advance the development of international arbitration hub in Asia-Pacific, as well as the growth of international trade.