Vice Chairman Dr. Li Hu attends the 2nd Singapore-China Int'l Commercial Dispute Resolution Conference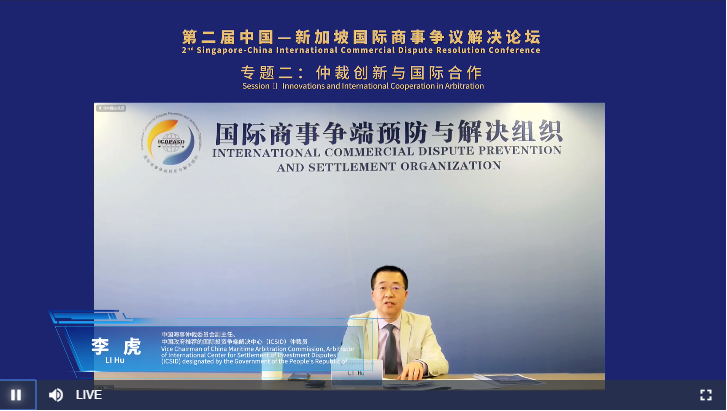 7 April 2022 - The 2nd Singapore-China International Commercial Dispute Resolution Conference, organized by Council for the Promotion of International Trade (CCPIT), the Singapore Ministry of Law and International Commercial Dispute Prevention and Settlement Organization (ICDPASO) was simultaneously held in Xiamen, Beijing and Singapore. Themed "development and future of international commercial dispute resolution," the event aims to help build a fairer and more equitable dispute resolution mechanism through sharing expertise and communication.
The conference, held online and offline, has attracted over 120,000 online viewers.
Dr. Li Hu, Vice Chairman of CMAC, delivered a keynote speech at "Session II: Innovation and International Cooperation in Arbitration". He stressed that the continued success of international arbitration relies on innovation and international cooperation. He further put forwarded three suggestions towards innovative development in China's institutional arbitration practice. First, measures shall be taken to increase confidence and transparency of arbitral proceedings; second, autonomy of the parties and the authority of arbitral tribunals shall be fully respected; third, it is necessary to develop a dynamic arbitration framework internalizing international arbitration standards, for instance, by introducing ad hoc arbitration into China's Arbitration Law.
A memorandum of understanding (MOU) was signed between the CCPIT and Singapore's Ministry of Law. An expert team has been established for regular exchanges over dispute resolution between the two countries. Dr. Li Hu is admitted as a member of the expert team.